Rota-Spray and Rota Spray Plus
A Spray Processor with many advanced features making an ideal upgrade to a Bubble Etch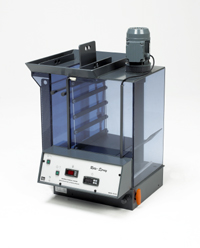 Tank.The Rota-Spray is a Spray Processor with an in-built Spray Wash Tank and is normally used for Etch / Spray Wash. The 'Rota-Spray Plus' features an additional static unheated Developing Tank enabling the unit to be used as an Develop / Spray Wash / Spray Etch combination. Both units feature:
Digital temperature control - Set & control temperatures accurately.
Transparent case design - Panels can be examined after processing without removing.
Integral Spray Wash Tank - Washes the entire board holder to keep whole etching process clean. Fitted with adjustable spray bars.
Etches PCBs in less than 90 seconds! - 3-4 times faster than a Bubble Etch Tank.
Static Developing Tank, unheated with bottom drain - 'Rota-Spray Plus' only
Bottom drain with secure fastening - No syphoning necessary.
Splash hopper included - Helps to contain chemistry to aid clean processing.
Safety cut-out on lid - Motor cuts off if lid is raised during etching.
Optional Base Unit available - Places the top of the unit at an efficient working height of 110cm
New Board Holder - Takes multiple small boards. Low profile design means less etchant or developer collects on board holder keeping processing cleaner.
Digital timer controls processing time - As the board is not immersed in liquid, there is no over-processing after completion. This makes over-etching very difficult.
10" x 12" (254 x 305 mm) Board capacity
Dimensions : 'Rota-Spray' H 650, W 475, D 500 mm 'Rota-Spray Plus' H 650, W 540, D 500 mm
Optional Base Unit Height : 450mm
| | | | |
| --- | --- | --- | --- |
| Order Code | Description | Price | QTY |
You can always call us at 1-800-447-1944 (Canada and US) and we will actually talk with you and send a catalog via US mail if you wish.