Production Lines
Complete 7 Tank Processing Lines
10" x 12" or 12" x 18" board capacity
Processed and tinned PCBs in under 20 minutes
Easy emptying of tanks from bottom drain, no syphoning
RCD current trip socket fitted as standard
Develop - Spray Wash - Etch - Spray Wash - Resist Strip - Spray Wash - Immerse Tin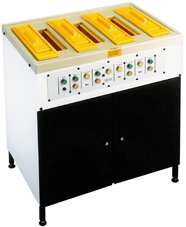 These two units are very similar to the PCB Labstations but they include an extra spray wash and process tank instead of the sink. This enables the complete processing sequence to be undertaken in one compact free standing unit measuring only 835mm (width) x 578mm (depth) x 900mm (height). These units are ideal for producing prototype or low volume production quantities of conventional boards, quickly, safely and efficiently.

Each tank is moulded from polypropylene. The 10" x 12" tanks from a single injection moulding and the larger 12" x 18" from two injection moulded tanks welded together and reinforced. All tanks have bottom drains so no syphoning is needed when the tanks are emptied.

The cabinet itself is of a steel construction clad with polypropylene sheeting and incorporates a lockable storage facility. Doors are manufactured from 6mm thick black PVC.

A chemical starter kit is available which offers a saving on chemicals purchased separately. Order 2 kits for a 12"x18" unit.
Complete 7 Tank Processing Lines with sink
The logical progression to a standard 7 Tank Processing Line is to produce a version with a built in sink. The facility of a sink with a hot and cold water mixer tap helps keep the whole process of PCB production even more clean and efficient. All other features on these units with the sink are common to the PB710 and PB720.

Overall dimensions are: width 1185mm, depth 580mm, and height 900mm.
| | | | |
| --- | --- | --- | --- |
| Order Code | Description | Price | QTY |
You can always call us at 1-800-447-1944 (Canada and US) and we will actually talk with you and send a catalog via US mail if you wish.