PCB Labstation
A very popular multi-purpose PCB processing unit specifically developed to satisfy demands from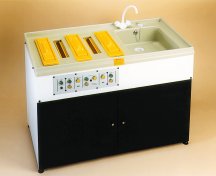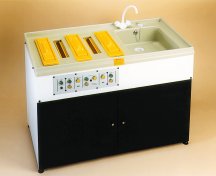 both the educational and industrial sectors. The unit features all the advantages of our normal 5 tank processing units with the added benefit of an integral sink with hot and cold water to keep PCB processing clean and efficient . Possible processing sequences are: Develop / Wash / Etch / Wash / Resist Strip OR Develop / Wash / Etch / Wash / Immerse Tin. It is recommended that the last tank be used for tinning and the Photoresist is stripped in the sink with a SN120 strip applicator.
Features of this unit include :
Choice of Tank sizes
One piece polypropylene moulded top incorporating a sink and hot/cold mixer tap.
Three chemical process tanks separated by two integral spray wash tanks.
10" x 12" tanks moulded as 'one piece', - eliminates the risk of splits from welds or seams.
Protected control panel conveniently mounted in the front of the unit which controls heaters, air pumps and spray wash tanks.
RCD current trip socket supplied as standard.
Standard single phase 240/50Hz 13 amp supply required.
Hot and cold water inlets are through standard washing machine hoses provided, draining from standard 32mm push fittings also provided.
The cabinet itself is of steel construction clad with polypropylene sheeting and incorporates a lockable storage facility. Doors are manufactured from PVC
Each Labstation can be purchased with or without a chemical starter kit. Purchasing the chemicals in this way offers a saving of over 25% of their normal purchase price. This basic kit for the PCB500S consists of one of each of the following: 4006V05 developer; 2.5kg Ferric etchant; PC168 tin; SN120 Photoresist strip applicator and a PC182 scrub block.
As the PCB520S has larger tanks double quantities of developer, etchant and tin are supplied. Chemical starter kits are not available separately.
| | | | |
| --- | --- | --- | --- |
| Order Code | Description | Price | QTY |
You can always call us at 1-800-447-1944 (Canada and US) and we will actually talk with you and send a catalog via US mail if you wish.