Rota Station & Rota Station Plus Processing Unit
This new product incorporates a Rota-Spray or Rota-Station Plus with two digitally controlled heated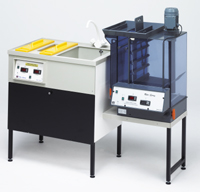 PCB tanks, a Spray Wash Tank and a Processing Sink to offer a comprehensive PCB Production Solution. For those that already have one the Rota-Station is available without a Rota-Spray.
Rota-Station
The Rota-Spray (described in detail elsewhere on our site) is designed to spray etch and wash circuits but customers have asked Mega for modifications so it can handle a more comprehensive PCB production process. This is what the new Rota-Station offers. In essence it is a Rota-Spray with an additional two digitally controlled Heated Process Tanks either side of a Spray-Wash Tank and an integral Hot/Cold sink. The new Rota-Station therefore offers all the efficiencies of the spray etching of the Rota-Spray with additional processing tanks. It is envisaged that one of the heated tanks will be used for developing, with the second used for either stripping or tinning. Anyone who has ever made circuit boards will realise the benefit of having an integral sink with a hot and cold mixer tap.
Rota-Station 'Plus'
For the ultimate in PCB production the Rota-Station 'Plus' is the same as above but it includes a Rota-Spray Plus machine with its additional Developing Tank. This means the user has a complete processing sequence available of Develop / Spray Wash / Spray Etch/ Spray Wash / Resist Strip / Spray Wash / Immerse Tin.
You can always call us at 1-800-447-1944 (Canada and US) and we will actually talk with you and send a catalog via US mail if you wish.