Roller Tinning Machine
Bench mounting roller tinning machine with 12" roller width. The solder tank is constructed from high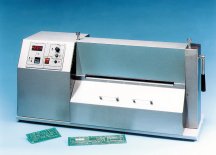 grade stainless steel, suspended from a linkage mechanism. This allows it to be lowered easily fromthe coating roller for access and general maintenance.
The two 1200 watt heaters ensure a fast heat up time, while the electronic temperature control system ensures that operating temperatures are accurately maintained. The top pressure roller can be raised and lowered by a single lever eccentric mechanism which enables it to be returned to the pre-set position without the need for resetting. Additional features include digital temperature display, thumb wheel temperature setting and motor/ temperature interlock to prevent the motor being switched on while the solder is solid. The machines are fitted with stainless steel covers which provide complete protection for the operator but allow quick and easy access to the tank for replenishing salts and solder.
Specifications:
| | |
| --- | --- |
| IGP-305 | |
| Max board width | 305mm (12") |
| Max board thickness | 12mm |
| Solder bath capacity | 12kg |
| Heat up time (ambient to 240°C) | 20 mins (approx) |
| temperature control | +/- 2°C |
| Throughput speed | 0-10 metres/min |
| Electrics | 220-240V, 50Hz 1ph |
| Dimensions (mm) | 850L x 330D x 490H |
Products
27-18043 IGP-305 Roller Tinning Mach 12" Contact Us for quote.
You can always call us at 1-800-447-1944 (Canada and US) and we will actually talk with you and send a catalog via US mail if you wish.