PA318 Tri-Tank 12"x 20"
Develop, Wash and Etch
For those requiring a larger three tank unit the PA318 is available. Featuring a larger fabricated outer and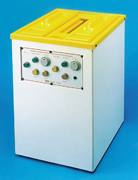 larger inner tanks, panels to 12" x 20" can be processed. The same processing sequence as the PA310 is offered, namely develop/wash/etch.
Width 400mm, Depth 525mm, Height 600mm.
You can always call us at 1-800-447-1944 (Canada and US) and we will actually talk with you and send a catalog via US mail if you wish.