PA210 Two-Tank Unit
Etch and Wash
An improvement over a standard Bubble Etch Tank. This unit is the same as the PA104 Bubble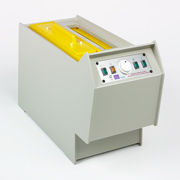 EtchTank with the addition of an integral spray wash tank. The spray wash is solenoid operated and all electrical controls are on the front panel. Connections are provided at the rear for drain and cold water requirements. The integral spray wash tank offers safer and more efficient etching of boards than a standard bubble etch tank and being wider also gives greater stability. Complete with an IEC socket and supplied with 2 metres mains cable with moulded 13amp plug and a syphon. Width 275mm, Depth 525mm, Height 380mm.
| | | | |
| --- | --- | --- | --- |
| Order Code | Description | Price | QTY |
You can always call us at 1-800-447-1944 (Canada and US) and we will actually talk with you and send a catalog via US mail if you wish.