ES420 Corner Rounder
An inexpensive invaluable tool to meet the demand for a quick corner rounding facility for plastic/metal labels and front panels. The table is effectively split into two halves, each containing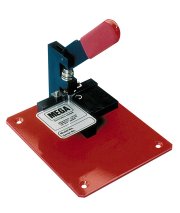 90 degree stops, in the angle of each is a hardened radius of 6mm on one side and 4mm on the other. The punch has been ground to simultaneously marry both of these rounds when driven down by the cam actioned handle. The material to be rounded is slid from the left or right hand side positively into the stops, to leave an overhang which is sheared through by the punch to leave a clean corner of either 6mm or 4mm radius depending on which side of the table you use. It should be noted that material originally cut out of square will result in an unbalanced round being removed. The table support column is mounted on a 5" X 5" steel plate with screw holes for bench fixing, although this will probably be unnecessary for most users. Overall height with handle upright 8" (205mm) and weight 1.2Kg.

Products
700-007 ES420 Corner Rounder - CONTACT US FOR QUOTE
You can always call us at 1-800-447-1944 (Canada and US) and we will actually talk with you and send a catalog via US mail if you wish.