Dry Film Roll Laminator
The RLM is a dry film laminator especially made for small companies, schools, research and development departments. All commercial laminates for PCB manufacture and mould-etching part technique can be processed. Due to adjustable pressure control and adjustable laminating speed, solder mask application is also possible without problems.
The machine is also used in very successfully in other application fields like WAFER MASKING and SMT STENCIL production or METAL WORKING
Features
Easy and fast mounting of resist rollers of nearly all coil diameters
Detachable inlet table for easy access to low resist roll
Infinitely adjustable laminating speed
Electrically heated lamination rollers with uniform temperature distribution
Separate transport rollers for non-creasing laminate transport
Digital setting and read out of lamination temperature
Manually adjustable lamination pressure
For all common dry film resists with 3 and 5 inch core diameter
Suitable for solder mask application
Technical Data
Lamination width max.: 400 mm
Transport width max.: 440 mm
Board thickness: 0.3 – 5 mm
Board size: Min 50 x 50mm; max. 450mm x endless
Lamination speed: 0.2-1.2 m/min adjustable
Resist tension: adjustable
Lamination pressure: adjustable
Temperature range: 20-120 °C
Power supply: 230 V 50 Hz, 1,5-2,5 kW
Weight: 38 kg
Dimensions (W x D x H): 69 x 63 x 57 cm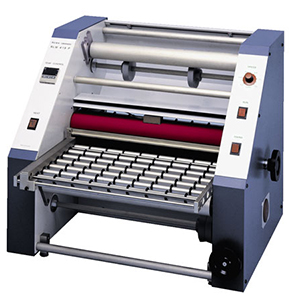 | | | | |
| --- | --- | --- | --- |
| Order Code | Description | Price | QTY |
You can always call us at 1-800-447-1944 (Canada and US) and we will actually talk with you and send a catalog via US mail if you wish.