ABC Copper Plate System
MAIN FEATURES

Only 4 Process Functions, plus plating.
Wide window of operation.
Specially developed ABC Chemistry already being used by European PCB Manufacturers.
None of the nasty chemicals associated with other plating systems, (e.g. no Formaldehyde).
Line time less than one hour - half that of other systems. Stable chemistry even when used irregularly.
Minimum analysis - mostly done by replenishment (no specialist opera
tor required).
Very compact equipment - ideal for use where space is limited.
Solid state controls, dual current output - plating timer - re-settable amp/hour counter.
Mega's ABC Plating Lines are for the production of high quality Prototype and Production quantities of Plated Through Hole boards. The process has none of the complexities of older style methods of production which are both time consuming and require expensive monitoring of processes on a daily basis. The heart of the system is our patented chemistry which has only four processes to prepare a panel to be electrolytically plated. Analysis of the chemistry is minimal, and so simple is the chemistry, we call it ABC. The Plating Lines feature electrolytic plating power supplies with controllers with membrane touch pad and digital read out meters to set volts, current, plating time and amp hours.
The exact method of producing a Through Hole Plated Board is via PANEL PLATING and this is described in detail on our web site. In essence it involves drilling a blank PCB laminate,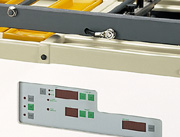 plating theholes with Copper and using Dry Film Laminate image the circuit and cover the holes to protect them from the etchant. A Dry Film Laminator and CNC drill are essential pieces of equipment for this process.
Processing Sequence
PL903S
PL904S
Max. Panel Size:
12" x 10" (305 x 254mm)
18" x 12" (457 x 305mm)
Max.finished PCB:
11.5" x 9" (292 x 228mm)
18" x 11" (457 x 280mm)
Tank capacity:
Process 5L, Plating 25L
Process 10L, Plating 50L
Rectifiers:
PL903S 1 x 50A
PL904S 1 x 100A
Agitation:
Mechanical to all process stages & air to plating
| | |
| --- | --- |
| Dimensions: | 1500 x 620 x 910mm. |
| Electrics: | Single phase 220/240V 50Hz or 60Hz. |
| Heaters: | 500W Silica sheath. |
| Water in: | Standard washing machine hose fittings supplied. |
| Water out: | 36mm push fit polypropylene drain. |
Power Supply Features - common to all copper and lead/tin plating.
Independent Anode set current with digital meters.
Set plating current time 0-99 minutes, digital.
Pause facility - disconnects plating current at any period - pressing run allows process to continue until plating time is completed.
0-9999 Digital Re-settable Amp hour meters.
Sealed Membrane Front Panel Overlay with touch panel controls.
Rectifiers: PL903S 1 x 50A, PL904S 1 x 100A
Products
500-085 PL903S ABC Copper Plating Line 10"x12" (1x50A PSU) Contact Us for Quote.

500-086 PL904S ABC Copper Plating Line 12"x18" (1x100A PSU) Contact Us for Quote
You can always call us at 1-800-447-1944 (Canada and US) and we will actually talk with you and send a catalog via US mail if you wish.