A3 Dry Film Sheet Laminator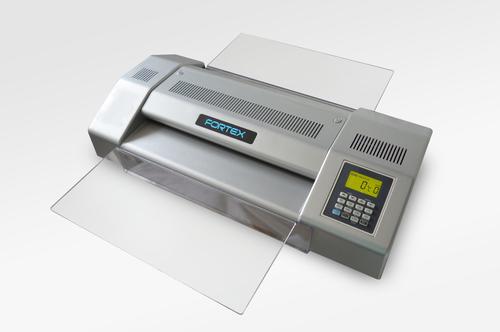 For lower volume production the 304 Dry Film Sheet Laminator will enable you to apply Dry Film Photo-Resist sheets to a wide range of substrates including FR4, Silver, Steel, Brass and Aluminium for Chemical Milling Etching Applications and Printed Circuit board production.
The 304 Dry Film Sheet Laminator is designed to allow the lamination of Dry Film Photo Resist Sheets to a wide range of substrate materials including PCB copper laminates, flexible laminates, Ceramic Wafers, stainless steel, Brass, Silver etc.
This Dry Film sheet Laminator offers a cost effective alternative to the Double Sided Dry Film Roll Laminator. One side of the substrate material can be laminated at a time. The machine will effortlessly laminate materials to a thickness of 3mm using superior hot roll infra red technology giving uniform heat distribution.
All temperature and speed controls are microprocessor controlled with a pre-set condition which can be manually over ridden. Temperature and speed number (1-6) are indicated on the LCD display.
The Dry Film Laminating machine is supplied complete with a Load and Exit tray which allows the operator holding the material being processed to support the dry film photo resist and substrate material during the lamination process, thus eliminating the risk of creasing. Features of this machine include:-
Up to 9 Exclusive pre-set temperature and speed setting programs can be stored for a variety of applications just by pressing a button on the digital display panel.
Maximum Lamination Width 325mm
Warm-up time only 3 minutes due to the Infrared heater design which gives uniform heat distribution across the dual Fusion heat rollers as well as improved temperature control.
Replaceable internal infrared roller heaters
Heavy duty motor with regenerative motor drive featuring hardened steel roller /sprocket drive train
Accurate digital readout backlit display of roller temperature and speed allow operator to easily adjust settings
Non contact Accurate real-time Temperature read out from an infrared sensor which also provides real time feedback to the microcontroller
Adjustable override controls for both temperature and speed to compensate for variations in material or conditions.
Optional footswitch for ease of operation
Separate dual pull rollers for ease of transport of substrate materials with no creasing of dry film
One touch Reverse function to allow easy cleaning of rollers and for Panel alignment
Ready and Wait visual and audible signals alert operator to laminator readiness thus reduces errors.
Dual Heater roller and dual pressure roller construction in high grade Silicon rubber allows precision balanced roller pressure across the full width of the panel, with automatic roller gap adjustment ensuring correct pressure for laminating panels and flexible substrates from 0.1mm up to 3 mm thick.
Dry Film Sheet Laminator Specifications



304 Model


Maximum working width

Minimum Material Thickness

Maximum Material Thickness

Maximum Material Length

325 mm( 12.8" )

0.1 mm (0.003")

3mm (0.118")

Infinite

Temperature range

Cooling System

0 – 160 °C (0-320°F)

AC Fans

Lamination speed

0 – 1 m/minute (3.2 fpm) variable in 6 stages

Power Requirements
220/240 Volt 50/60 Hz Single phase 4.4 amp
Machine Dimensions without Load/Exit Tray

550 mm 21.7" (W)

270 mm 10.6" (L)
130 mm 5.11" (H)
Shipping weight

Shipping Dimensions

17 Kg (35.5lb)

Shipping Dimensions 66cm x 36cm x 28cm
| | | | |
| --- | --- | --- | --- |
| Order Code | Description | Price | QTY |
You can always call us at 1-800-447-1944 (Canada and US) and we will actually talk with you and send a catalog via US mail if you wish.